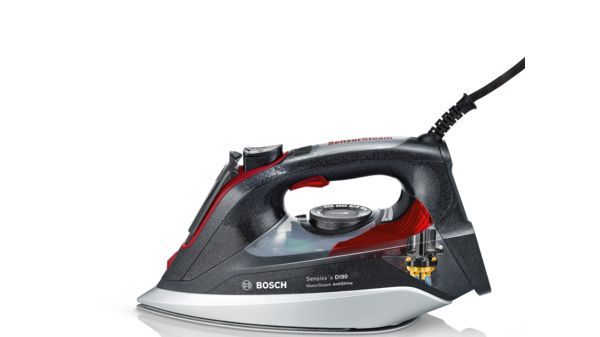 4AntiCalc

4AntiCalc: four-way cleaning function.

This four-way function set the benchmark in terms of descaling. Because you have to do almost nothing. It includes SelfClean, Calc'nClean, a built-in AntiCalc System and a special descaling solution. These four functions work together to effectively prevent limescale build-up in the appliance. The advantage for you is obvious: The service life of your Bosch iron is noticeably extended.

AdvancedSteam System

AdvancedSteam System: steam for professionals.

Leave nothing to chance when it comes to ironing. You can rely on our innovative AdvancedSteam System with an optimal and powerful steam output rate. It allows a targeted distribution of the steam over the fabric and deeper penetration into the fabric. How? Using a refined system and the interaction of steam channels, outlet wholes and guides. This targeted steam makes ironing easier and also brings you to your goal faster: a pile of ironed laundry.

DripStop

DripStop: no risk of water marks.

The DripStop function is a built-in control in the iron, which independently controls the temperature of the water flow. This prevents water droplets and unsightly water marks on fabrics. After all, there is nothing more annoying than having to put a garment back in the washing basket instead of being able to place it on the pile of ironed laundry. DripStop also works even at low temperatures.

MotorSteam

MotorSteam: the turbo iron.

The integrated, high-performance motor of the compact steam generator ensures the iron glides across the fabric and guarantees reliable ironing results.

SensorSteam

SensorSteam: safety with lots of steam.

This technology offers you maximum safety when ironing. It's because steam and heat switch off automatically as soon as you release the iron. Conversely, once you pick up the iron again within a very short space of time, full power, steam and heat are available again thanks to the powerful motor. A positive side-effect: You use less energy, because your iron is by no means permanently in your hand.

Steam shot

Strong steam shot against creases

Some fabrics are so thick and have such stubborn creases that you feel you are not getting anywhere when you iron them. This is not the case with the Bosch steam shot. A single touch of a button is all that's needed — even on fabrics with stubborn creases.